Deutscher Rock & Pop Preis 2019 und 2020 mit 9 Auszeichnungen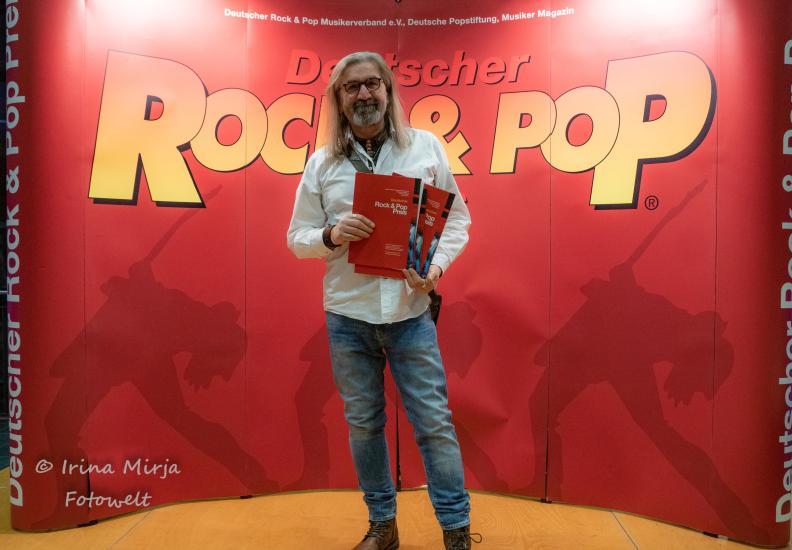 Bestes Hip-Hop-Album 2019 Mit dem Gewinnersong Time is out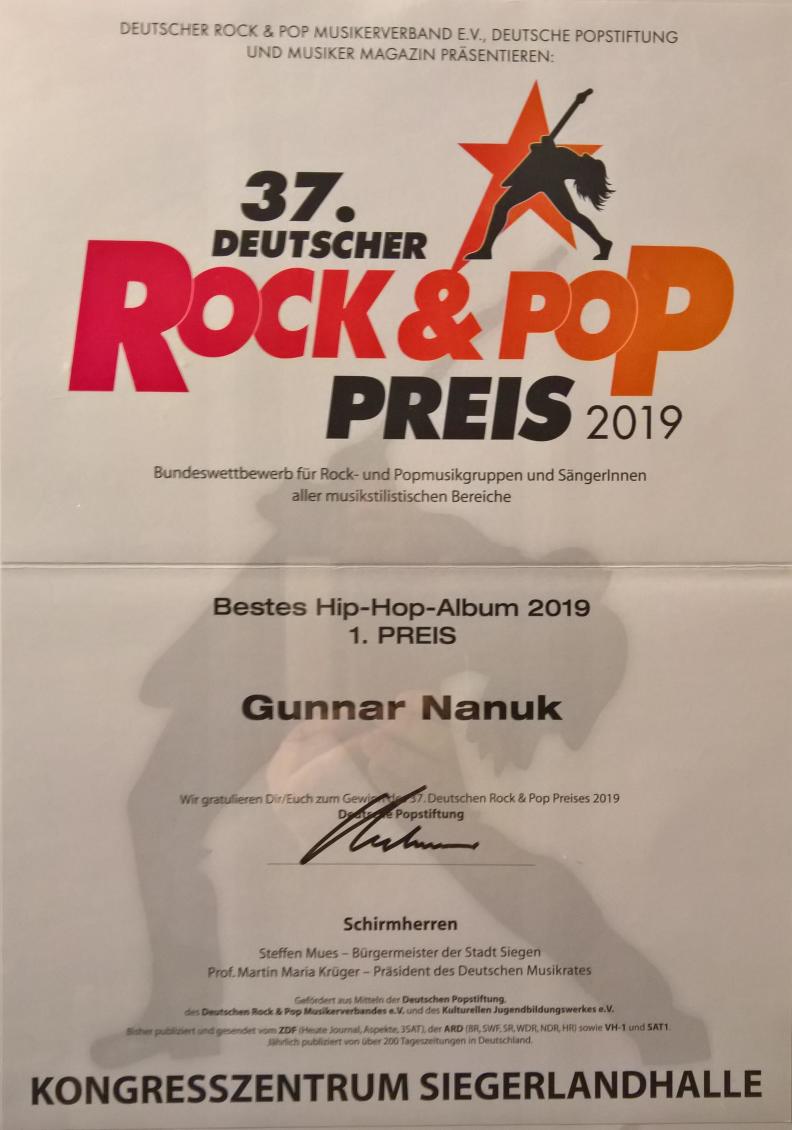 Amerikanische Cult Style Magazine über Gunnar Nanuk
Cult Style Magazine
Die Musikszene hat kürzlich eine experimentelle Mischung aus Rap und einzigartigen, atmosphärischen Instrumenten mit elektrischem Feeling gesehen. Diese eindringliche Erfahrung liefert Gunnar Nanuk, dessen experimentelle Vielseitigkeit in seinem Musikkatalog hervorgehoben wird. Mit seinen liebenswerten Klängen, die besonders beeindruckend sind, schlägt Nanuk seinen eigenen Weg in der riesigen Rap-Szene ein.

Kein Wunder, dass Nanuk für den 37. Deutschen Rock & Pop Award 2019 als Beste Electro Pop Band, Bestes Hip-Hop Album und Bester Electronic Artist nominiert wurde Ein Traum, der den Geist öffnet, mit dem Gefühl von sich ständig verändernden Klängen, Instrumenten und hart schlagenden Vocals, die sich ineinander und auseinander weben. "Time Is Out soll eine Botschaft sein", erklärt Gunnar, "es ist sehr interessant für mich, den Einfluss der Rapmusik in der Gesellschaft zu beobachten ... der raue, teilweise harte Ausdruck der Lieder zeigt auch einen Spiegel der Gesellschaft." Es ist offensichtlich, dass Gunnar Nanuk sich zu einer facettenreichen Persönlichkeit in der Musikwelt entwickelt hat und weiter wächst. Mit seinem ersten Album, das in diesem Jahr erscheinen soll, ist er definitiv ein Künstler, auf den man aufpassen sollte.

http://soundcloud.com/gunnar-nanuk/time-is-out
DISCOVER
Fresh, Mature, Unbounded: HBT's Exclusive Interview with Gunnar Nanuk & Lorraine Baron
First, Gunnar: Congratulations on your very exciting 2019 year, and for your three German Rock and Pop Music Awards 2019*, that must have been very exciting! First prize for Best Hip Hop Album for "Time is Out", second prize for Best Electronic Artist, and third prize for Best Electropop Band. What was it like hearing about it for the first time? Did you see it coming?
I heard on the 17th of November that I was nominated in three categories – it was a very exciting day. Even more thrilling, was the day that I actually won in all three categories – it was sensational and very humbling too. In my prior life as a metallurgy and technology instructor/master, I worked very hard to teach and support youth – I was a workaholic, so it was not until 2012 that I was able to dedicate more of my life to music. Since then, I have connected with musicians around the world, mostly through Soundcloud and other virtual forums, and I've continued to build my studio space. In April of 2019, I was interviewed by the GEMA** Virtuos magazine (GEMA, 2019), and was able to describe my studio, my work process, and what inspires me to write music.
So, Lorraine: Congratulations on your new collaboration with Gunnar to create this new great Hip Hop song called "Get Out". How did you two meet? And, how did this collaboration happen?
Well, as Gunnar mentioned, we musicians are often sharing our music and connecting with each other through various social media platforms and forums. Gunnar listened to some of my tracks, made some nice comments, and was in touch with me. One of the best things about making music today is our ability to connect remotely and create music together through international collaborations. Gunnar asked me to work on Steig Aus to produce an English version of the song. He sent me the tracks without vocals, and the lyrics translated from German. I kept the meaning and message of this amazing song, edited the lyrics, and sang and spoke some lyrics for the new English version. Gunnar then produced the resulting track, and we are very pleased with it.

So, why do you believe this collaboration works so well?
We are very excited about what our collaboration can bring. We work well together because we have the same values and beliefs about life and music. We are both "mature" – we both have had caring, sharing, and successful careers with youth. We have given a ton of our time to supporting the future and both have had active roles in social justice issues and sustainability for the planet and for nature. We are both into music because it is a passion, and our focus is never on financial success – only on writing great music, supporting important causes, and making a difference through the messages in our songs.
Gunnar's original intent with "Get Out" was to give women (or men) the courage to leave relationships that are harmful. Lorraine has also written many songs with this theme. Lorraine's Master's degree was in Child Abuse Prevention Education; the #MeToo movement and other current political events are great motivators for writing music.
The song "Don't Say We Didn't Know" is our next project. It is also dedicated to youth and to our planet. We are thankful for #TheGretaEffect and want to support our planet with more songs. There will be many more such collaborations. We work well together because we are both very committed, trustworthy, and authentic.
We are fresh because all of our music is new and current – and we are always young in our spirits because of our continuous work with youth. We are mature – we look at the important issues today. Because we have lived for some time, we choose to focus on topics for our songs that can really make a difference – this maturity is an asset. We are unbounded – nothing can stop us from writing excellent music. We are not bound by monetary pressures or organizational pressures – we are our own producers and labels, and we have all the time we want to spend on our musical goals.
Fresh, mature, unbounded – we feel so lucky to have met and to continue to make awesome music together.
Gunnar Nanuk & Lorraine Baron
Footnotes

* The German Rock and Pop Music Awards is Germany's oldest, most successful and largest national competition for rock and pop music groups and individual artists of all musical styles.
**GEMA is the German performing rights organizations for musicians, similar to BMI or ASCAP in the USA, and SOCAN in Canada.

Reference

GEMA. (2019). Places of Inspiration: Gunnar Nanuk. Virtuos: Das mitglieder-magazin der GEMA (April), 22.
https://hbtmag.com/interview-with-gunnar-nanuk-orraine-baron/
Gunnar Nanuk & Lorraine Baron
Mein Musiker Profil
​​Mit elektronischer Musik beschäftige ich mich schon seit Mitte der 1985 Jahre.
Mein erstes Gerät war ein Siehl Synthesizer. Es folgte ein Crumar Spirit, ein Juno 106 und ein Jupiter 8.
Schon damals begeisterte mich, dass man so viele Möglichkeiten hatte, einen Ton zu verändern. Ein großes Manko war, dass man die Poti Einstellung nicht speichern konnte. Schnell war ein Haufen Datenblätter mit den Einstellungen zu bearbeiten. Den Sound dann exakt wiederzubekommen, war schwierig.
Mit dem Jupiter 8 änderte sich das. Endlich konnten editierte Sounds abgespeichert werden.Mit diesem Equipment war ich dann mit einer Band einige Jahre unterwegs.Vorbilder in diesen Jahren waren Kraftwerk, Jean Michel Jarre und Grobschnitt .
Jetzige Musikertätigkeit
Ab 2012 begann ich mit Synthesizer neuerer Generation zu arbeiten. Auch etliche virtuelle Synthesizer kommen zum Einsatz.
Meine Songs produziere ich im eigenen Studio, wobei ich mit internationalen Künstlern zusammenarbeite.Eine gelungene Produktion ist dabei der Titel "Steig aus". Dieses Lied singt die Musikerin BELUDE.Auch die Produktion mit der französichen Sängerin ENLIA "Love Fighter" läüft weltweit. Ich nutze das Internet für meine Musikstücke.Hier hat sich bereits eine weltweite Fangemeinde gebildet.
Ich arbeite als Künstler in mehreren Bereichen mit eigens kreierten Holzskulpturen und
Musikinstrumenten aus Holz.
In der Musikproduktion arbeite ich sehr gerne mit den warmen Holzklängen.
Auch erstelle ich meine eigenen Wave's und baue diese in meinen Musikstücke ein.
Die in meinem Studio installierten Klangkörper sind in der Entwicklung und Gestaltung von mir selbst gebaut.
Mein Studio ist mit eigenen Holzbildhauereien ausgestattet.
Die Klangbäume aus Holz sind ein Blickfang und vom Klang sehr schön anzuhören.
Diese Klangbäume baue ich auch für andere Künstler.
Haben Sie Interesse an einem Klangbaum, dann setzen sie sich mit mir in Verbindung.
Jeder ist ein künstlerisches Unikat in der Form und Klang.
Eine für mich sehr schöne Form der schaffenden Kunst und der Musik.